Assessing the play of Dean Wade thus far in 2023-24 for Cavaliers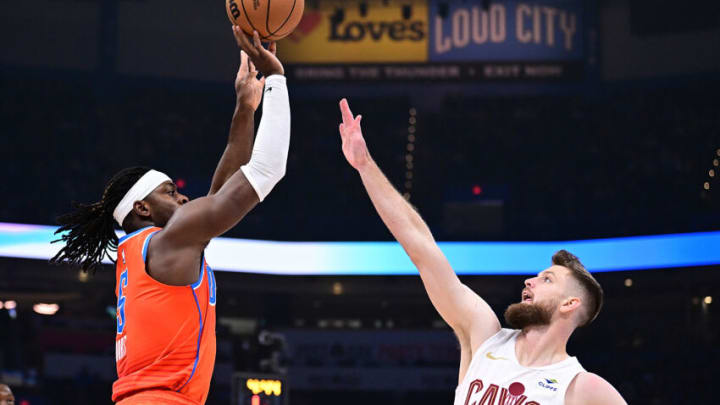 Shai Gilgeous-Alexander, Oklahoma City Thunder and Dean Wade, Cleveland Cavaliers. Photo by Joshua Gateley/Getty Images /
Coming into this season for the Cleveland Cavaliers, a player that seemed to be in line for a bounce-back campaign was Dean Wade.
After Wade was not the same shooter last season even after he returned from a shoulder injury, largely because of that reportedly still affecting him, Wade expressed how going into the year, he had been feeling the best he has since before first sustaining/dealing with that injury. With that in mind, it appeared how he could again be back to being a quality three-and-D option going into the 2023-24 campaign for Cleveland.
So far this season, he has done some positive things for the Cavaliers defensively, and while there's been minutes fluctuation for him, he has helped the team's depth, to some degree. On offense, he has not gotten off to nearly the same start as he did last season pre-injury, though, and definitely hasn't done a ton there.
Offensively, he's had a rough go to begin the year.
First off, Office Space rules (watch it if you haven't folks). Anyway, much like other Cavaliers, Wade seems to be trying to get his rhythm down, and to this point, it's often been tough sledding for him.
Offensively, he's had 3.1 points per game, and has had an effective field goal shooting clip of 46.8 percent. He's three-point shooting percentage has been 31.0, on 2.9 attempts per outing, with deep balls having been nearly all of his shot attempts early on, with 29 of his 31 shots coming from beyond the arc.
Wade has had some good looks, and is the kind of off-ball contributor that should benefit when the Cavaliers are moving the ball effectively, and in a few instances, he has shown flashes of him maybe regaining his stellar early-season form from last year.
Unfortunately, those haven't been the norm early on, as Wade did not score in a spot start in 33 minutes in a win at the Portland Trail Blazers, and went scoreless in a loss at the Sacramento Kings. Wade did knock in two big threes in a win at the Golden State Warriors, but over his last seven games, has averaged 2.4 points and has shot 33.3 percent from three, and even that shooting clip is largely boosted from two outings.
The positives from Wade to this point have been his defensive and rebounding impact for the Cavs, however.
Defensively, Wade has had some instances where he's had trouble in individual matchups for stretches, whether it's been in in spot starts, or time off the bench. He's been foul-prone at times, and in Cleveland's win at the Warriors last Saturday, he fouled out in 16:40 of game time.
That said, Wade is still a player that can help Cleveland on that end of the floor. He's often far more capable individually than Georges Niang on-ball, and at 6-foot-9 with good instincts, Wade is typically a viable option for stretches defending opposing wings and forwards in general.
While the fouling is something Cleveland needs Wade to limit to some degree, his team defensive play and as was previously hinted at, his rebounding positioning, are still areas he's continually made a difference in his opportunities.
When he's been on the floor so far this season, the Cavs have conceded 7.2 less points per 100 possessions, which has Wade ranked in the 82nd percentile in that player swing metric, per Cleaning The Glass.
Regarding the rebounding splits, Cleveland's opponents have an offensive rebounding percentage that has been 7.7 percent less in Wade's minutes, and on the flip side, the Cavaliers have had an offensive rebounding percentage that has been 3.2 percent better in Wade's minutes. In those metrics, Wade has graded out in the 96th and 72nd percentiles, per Cleaning The Glass.
The fact of the matter is, although Wade is not a player Cleveland is going to receive much shot creation from, if at all, and his shooting hasn't popped thus far, he still is a role piece that should be receiving minutes. And if that means him cutting into Caris LeVert or feasibly Georges Niang's minutes at times, or depending on the matchups, Max Strus, for predominantly defensive purposes, then so be it.
To that point, if Wade's minutes increase a bit and/or are somewhat stabilized, that could boost his shooting a bit. He is healthy now, and is a better shooter than he's demonstrated early on. He can turn that part of his game around, and when Darius Garland is healthier, that could also be a boost for shooters like Wade.