Predicting Donovan Mitchell's stat line for the 2022-23 season with Cavs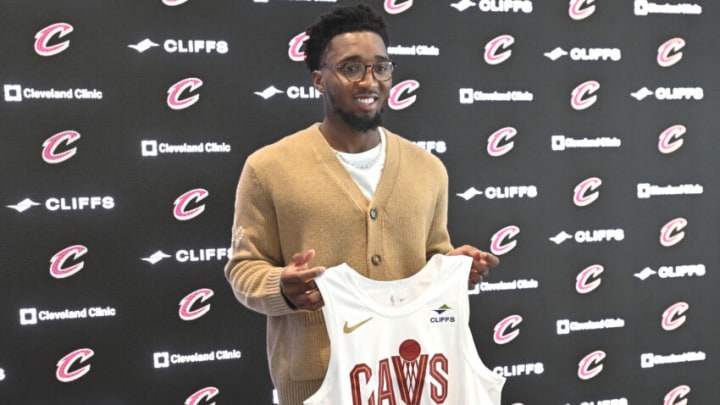 Donovan Mitchell, Cleveland Cavaliers. (Photo by David Richard-USA TODAY Sports) /
As many of you know, the Cleveland Cavaliers made a recent acquisition to get Utah Jazz guard Donovan Mitchell via trade.
The Cavs had to give up the farm to get Mitchell, but it looks like the deal should be beneficial for both sides. Utah gets young players and draft assets to help their rebuild, while for Cleveland, another shot creator will help ease the load off of Darius Garland's plate.
For those who don't know much about Donovan Mitchell, he is a 6-foot-1 combo guard who can facilitate, score at a high level, and is one of the most athletic players in the league, boasting a 40.5″ vertical jump at the NBA combine back in 2017. He is a 3 time All-Star, was runner-up for the Rookie of the Year in the 2017-18 season, and has never missed the playoffs in his career.
Like I mentioned, Mitchell is one of the NBA's most offensively gifted players. With his shooting touch and ability to drive into the lane and finish with contact, he has never averaged less than 20 points per game in his 5-year career in the NBA. His scoring abilities should really help Cleveland in clutch moments, and his court vision should also help the Cavs, too.
So with that said, what could Mitchell's stat line look like this coming season in his first year with the Cavs?
Let's look at Mitchell's stats throughout his career, to start things off for some background.
In 345 regular season games, he boasts averages of 23.9 points, 4.5 assists, and 4.2 rebounds per game, while also having a fine 18.9 PER (Player Efficiency Rating).
He also has 29.0 win shares in his career, which ranks 4th in the 2017 NBA Draft class (behind Bam Adebayo, Jayson Tatum, and Cleveland's own Jarrett Allen). His value over replacement player (VORP) ranks 2nd in the draft class, only behind Jayson Tatum. Safe to say, his traditional stats and advanced stats show how great of a player he really is.
To the prior point, now let's try to predict his stat line for next season.
Mitchell will probably be the #1 scoring option, while Garland will be #2, and the lead facilitator on the team. My prediction is that Donovan Mitchell will average about 25 points per game, to go with 4.5 assists and 3.5 rebounds per game, while shooting 46% from the field, 38% from distance, and 87% from the line. I believe he will also not be as much of a negative on defense as he has been the past few years.
His effort on the other side of the floor hasn't been satisfactory, and I believe J.B. Bickerstaff and everyone out in Cleveland will be able to motivate Mitchell a bit more to put more effort on defense.
Overall, though, he'll prove to be a difference-maker for this Wine and Gold team, and his postseason experience should be invaluable.