Larry Nance Jr.'s nostalgic tweet was awesome to see as Cavs fan
Larry Nance Jr. is so hard not to like as a Cleveland Cavaliers fan.
I've been truly more than satisfied with Larry Nance Jr.'s play for the Cleveland Cavaliers. In the past two seasons, which were his first full ones with Cleveland since being acquired at the 2018 trade deadline from the Los Angeles Lakers, he's made significant offensive strides.
Nance, who hit 35.2 percent of his three-point attempts last season, built on his 2018-19 progression on spot-ups, and he again had yet another career-best in scoring in 2019-20 with 10.1 points per outing. His much improved handle during this now-past season will only aid him more so on-ball and as a key playmaking big, too.
Nance is one of Cleveland's better defensive players as well, and going forward, I'm excited to see how him show more growth.
Nance is the Cavaliers' best all-around big at this point. And while The Athletic's John Hollinger (subscription required) recently suggested Nance as a trade target for the Boston Celtics for potential luxury tax relief down the road, I wouldn't expect the Cavs to have any interest in dealing Jr.
Anyhow, it's been a pleasure to see Nance get better and better, with him seeming to be one of the good guys, an exemplary teammate and emerging fan favorite. Nance, of course, has really embraced his connection to the fan base, with him being a native of nearby Akron and with his dad, Larry Nance, being one of the best Cavs players in team history.
Along those lines, Nance's tweet in that realm was really cool to see.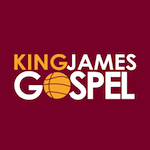 Want your voice heard? Join the King James Gospel team!
Write for us!
Nance's Sunday nostalgic tweet was awesome to see as a Cavs fan.
With the "how it's going" tweets being recently fitting, Jr. flashed back to his young days, with Nance Sr. holding up back when he was playing for the Cavaliers.
Nance, who had 16.8 points, 8.2 rebounds, 2.6 assists and 2.5 blocks per outing in six-plus seasons with Cleveland and is one of the best forwards in team history, clearly shares quite a bond with Jr. with how the latter has really embraced now playing for the Cavs. That began seemingly a while ago, too, as you can see here.
It's been something else to have seen Nance Jr., with Sr.'s approval, been donning #22 to honor his dad, who has his number retired otherwise by the Cleveland Cavaliers.
I'd say it's been going pretty darn well for Jr. with the Wine and Gold. He's continued to show progression throughout his time here, and with how he's become one of the Cavs' best players on both ends, this tweet was right on the mark.
Jr.'s nostalgic tweet here was awesome to see, and I'm pumped to see how he keeps building on his play from the past two seasons.
I'd imagine he very well will, and overall, it's so cool to see Sr. be so supportive of the Cavaliers still, and you can just tell from things like this tweet that Jr. has such an appreciation for playing for the Wine and Gold and making his own presence felt here.
Frankly, it's difficult to not like Larry Nance Jr. as a Cavaliers fan these days, and with the growth he's shown in recent years, that helps set the right example for pieces such as Darius Garland, Kevin Porter Jr. and Dylan Windler.